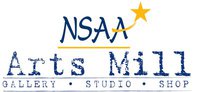 Welcome to NSAA's Arts Mill – November 2012 Newsletter
We have many wonderful and exciting event/news this month.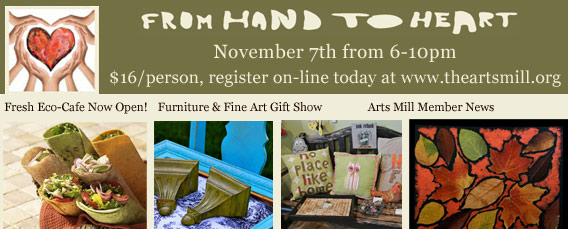 Upcoming Event – Hand to Heart
(Registration Deadline – November 5th):

Begin the holiday season enjoying community,  heart healthy beautiful organic tapas, music and hand made local art? Register on-line today for this wonderful event,
"From Hand to HeART," on Wed. November 7th at NSAA's Arts Mill. We are located at 1300 14th Ave. Grafton WI. 
Click here to learn more and register on-line.
Read below to see our latest news.
NSAA's Arts Mill welcomes "Fresh" an Eco-Cafe/Juice Bar to our 1st floor lobby.

Lunch Hours: Tues. – Sat. from 11am to 2pm


We are excited to announce that "Fresh" an Eco-Cafe will be serving lunch at the NSAA's Arts Mill. Here is a sampling of our menu options:


Organic Salads

Smoothies from Real Fruits and Veggies

Healthy Wraps and much more.   

 
Arts Mill Member News
Adria Willenson Designs – Fall Season 2012
Available for sale at NSAA's Arts Mill, 2nd floor.
This 2012 Fall Season has produced some beautiful colors and has inspired my artwork as well. My latest artwork is available to view and purchase at my studio in NSAA's Arts Mill located at: 1300 14th Avenue Grafton, WI 53024. Hours are 11am to 5pm (Tues. through Saturday).

New home decor items now available at Junk Rethunk!
Come see her new collection of Home Decor along with her paintings, recycled ("Junk Rethunk") bottle vases, light bulb critters, bottlecap frames & jewelry, and more.
To learn more about Meredith's latest work of art, click here. 


 
Artist News: Becca Mulenburg


Just Released! Cat Looking Out of Window


Original Oil, 6×6″, $165.
This painting is of my backyard cat in San Antonio who melted my heart and eventually made his way into my home. To learn more about Becca's latest work of art, click here. 
Arts Mill Member News: Sheri Bestor & Balancing Arts Yoga.


Monday Evening Yoga – 6:30-7:30pm




Wednesday Morning Yoga – 9:30-10:30am




Cost:

$10 drop in.  Fall Pass Card:  8 classes for $68.00.
Yoga mats available for your use.  It is recommended that you refrain from eating a heavy meal before class.
Balancing Arts Studio: Located at 1300, 14th Ave. Grafton Wisconsin, in the Arts Mill. The North Building on the Third Floor. Please enter through the single royal blue side door. Click here for more information.
Volunteers Needed: Arts Mill Gallery Ambassadors


We are currently accepting applications for Gallery Ambassadors to work in our lobby greeting and orienting visitors on exhibitions, studio's and the Arts Mill boutique.
Volunteers can also help at events such as Opening Receptions.  To fill out an application please contact Paula D. Christensen at paulac@northshoreacademyofthearts.org